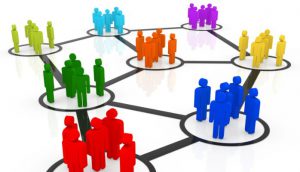 Mention "edtech" to someone, and I suspect the person(s) you are talking to will most likely assume you are talking about technology in schools, i.e. "primary schools," or what we in the US refer to as "K12." However, this is a very narrow view of edtech, and, as discussed below, we should not necessarily assume that this is the best market segment for a Nordic edtech company to focus on, depending on what are its near and longer-terms strategies and goals for the company.
Last Fall, in a discussion with Jannie Jeppesen of Edtech Sweden, she asked me for my definition of edtech, and I shared this definition with her: "The creation, use and management of technological resources in education, learning and training." In later discussions I shared my taxonomy, which I also used in my this blog post—which specified that edtech really deals with at least the following market segments: (1) Toddlers/Preschool; (2) Direct-to-consumers; (3) K12; (4) Higher Education (HE); and (5) Corporate/Government.
In the context of the edtech definition referred to above and the five market segments identified, what do these imply about the commonly held perception about edtech and "where the action is"? Here are just a few of my own observations:
Schools represent only one—and perhaps even a relatively small market when compared to the aggregate of all the other 4 segments; but this raises interesting (research) questions about the size of each market segment (and their likely future growth) in each of the Nordic countries.
Education typically implies formal learning—thus taking place in K12 or HE—while learning is something we (as learners, especially as adults) do all our lives, i.e. "lifelong learning" (in fact, this is where MOOC players are currently finding the greatest market opportunities, but in the last couple of years, MOOCs are also starting to see greater use in corporate learning/training)
All edtech companies active in the K12 segment know that some of the challenges in this segment include tight budgets, often dealing with public bureaucracies, long sales cycles, and very competitive markets as the segment has lots of other players.
Corporate learning and training markets, however, may be much less "crowded" and may offer "long-hanging fruits" if edtech vendors can demonstrate, for instance, that they can help sales people learn much faster (and more flexibly and with easier access than traditional training operations) and more effectively.
Unfortunately, we don't (yet) have good and definitive data that show clearly how Nordic edtech companies are targeting different market segments, but we do have some initial data that show the following:
Based on reviewing the websites of over 300 Nordic edtech companies (analysis of this can be found here and here): The results showed the following segment targets: Toddler/Preschool: 8%; Direct-to-consumer: 33%; K12: 61%; Higher Education 27%; and Corporate/Government: 35%.
A recent report by Edtech Sweden (Svensk Edtech-möjligheter och utmaningar för en bransch i stark tillväxt said about market segments served: Of the 75 respondents to their survey, 70 companies said they were targeting schools (i.e. K12 segment); 48 targeting "Direct-to-consumers"; 36 targeted "higher education;" and 37 targeted industry and government sector.
Finally, the NEN survey late 2016 (and describe here, involving 51 Nordic edtech companies—with strongest Swedish and Finnish participation, showed the following: Again, K12 segment is mostly targeted (by 58% of the survey respondents); Corporate/Government as 56%, Higher Education: 48%; and Direct-to-consumers: 23%.
If you wonder why the current situation, i.e. Nordic edtech dominant focus on K12, exists, perhaps the answers to one of the question in our NEN survey late last year will shed some light on the situation. We asked what were some of the reasons behind founders deciding to launch their company. These were the three most important reasons:
An idea that we felt passionate about and was compelling to us (60.8%)
Personal experience of an educational problem we wanted to fix (60.8%)
The educational system of today is not as good as it could/should be (52.9%)
These answers seem to imply the respondents are talking about the formal education system, and likely K12, specifically, but perhaps also, to a lesser degree, HE. Our survey also revealed that very few respondents said they "were in it for the money" (8%). I suspect the answer would be different—but how much?—if the company was targeting the learning and training in the corporate or government sector. The answer showing that only 8% of the respondents were "in it for the money" may or may not be one that a venture capital investor (especially in the US) would be thrilled to hear. So clearly edtech founders seem to be very different from most founders in other industries and sectors, where revenues and high "market caps" (typically a function of revenues and revenue growth) are what most or many of them are looking to achieve.
A recent dialog I had with a Norwegian friend, Trond Markussen (Senior Advisor at DNB, one of Norway's largest banks), who has deep experience in education and learning in Norway, but mostly in the corporate sector, raised the following hypotheses about the predominance of K12 among Nordic—and perhaps especially Norwegian—edtech companies and the implications of such K12 focus:
The predominant focus on K12 may be driven by the available funding models, and especially the heavy reliance of many edtech companies on public grants. Such grants are relatively easy to get—especially compared to private seed/angel funding. And assistance for writing grant proposals is often easily available and many already have considerable experience in writing such proposals, or grant funding requests, from work with national research councils, EU agencies, or other public agencies that provide startup funding.
Relatively easy access to public grants often result in edtech players "becoming addicted" to such funding, and using such funding for longer than they should, and thereby avoiding tougher funding channels, such as angel/seed funding or venture funding from the private sector.
Strong competition in a K12 market with many competitors, and with limited public funding for edtech projects in schools, will limit the growth potential of the firms that operate in and focus on this segment—rather than exploring opportunities in some of the other segments, both HE and corporate/government.
Finally, we have seen growing press coverage of "Edtech in schools" and the companies getting this attention feel they are doing something socially valuable, at the same time as they feel they enjoy contributing to improving schools even if they don't make sufficient money to grow and scale their company, thereby creating jobs and expanding into other markets.
Trond Markussen—who encourages a dialog about the current and potential (expanded) role of Nordic edtech in the corporate learning and training sector—wondered whether demanding technical integration requirements (with existing corporate IT systems), as well as Single Sign On requirements, in the corporate segment may contribute to keeping early-stage edtech companies away from pursuing opportunities in the corporate sector. Could such infrastructure and technical requirement differences among the different market segments explain the differences we see in segment preferences among Nordic edtech companies? If not, what do you think may explain the market preference differences that appear to exist? And are these differences temporary and perhaps a function of relatively immaturity of the Nordic edtech industry, such that these differences will gradually disappear over time?
It would be beyond the scope of this blog post to go into detail about what opportunities may await edtech companies that decide to focus on Higher Education or Corporate/Government. I will examine some of these issues in a future blog post. But let me just mention that edtech companies interested in exploring the corporate markets should consider connecting with organizations that focus mostly on the corporate and government segment. In Norway, the Research and Educational Network (REN), a part of Innovation Norway, has long had considerable interest in the corporate sector, and has many members from the private sector. Connecting with such groups may help identify potential customers, and perhaps finding companies that would be interested in co-creating and acting as a test bed for new edtech solutions that would be of benefit to their companies.