Definitional and Categorization Issues and Challenges
The focus of our project is on "edtech" in a Nordic context, and we are therefore interested only in companies that have a significant focus on education, learning and training (ELT) AND leveraging technology in their products and services as a way to make the creation, delivery, process and management of ELT more effective and efficient. While the bulk of the edtech products and services of Nordic edtech companies tend to focus on students (in schools and universities/colleges and vocational institutions), other important segments of learners (informal or casual learning as well as more formal learning) include toddler and preschool children involved in various learning activities, as well as people of any age interested in informal, life-long learning (often referred to as Direct-To-Consumers).
When going through our lists preliminary lists of 407 companies—containing 54 Danish, 216 Finnish, 14 Icelandic, 57 Norwegian, and 66 Swedish companies—we used the following criteria to screen the lists to zero in on what we consider to be edtech-focused companies (excluding academic institutions, even though most of them now utilize some form and degree of technology in their operations):
Significant focus on ELT and having significant technology focus (especially, but not exclusively Internet/Web)
Exclude professional service companies that are primarily focused on general business services (and consulting), with only very minimal ELT-focus.
Exclude companies producing furniture and other classroom equipment which is typically not seen as edtech (even though we admit that building furniture these days also often can be "high tech")
Include edtech companies that may be subsidiaries of larger companies, as in the case with large publishing companies that today are gaining stronger technology focus
Include publishing companies that we know have significant technology operations that are focused on ELT [but we put them in a special tier to separate them from other, "more pure" edtech companies]
Exclude gaming studios which may have an interest in building educational and learning game, but which show no evidence of having (currently) a significant educational and learning focus
We stress that these definitional assumptions are specific to our project, and we are not arguing that everyone should necessarily adopt the same definitions. But since we are interested in making analytical comparisons across the Nordic region, we feel it is important to have a consistent definition for our project as we collect data and undertake analysis of the Nordic edtech ecosystem. Some of the early results of our work so far will now be shared with the Nordic edtech community in two blog posts. This includes analysis of which customers segments are served by the edtech companies from each of the Nordic countries, as well as what product and service categories are most common among the companies we have examined. But we emphasize that our current results are preliminary, but they will enable us to make comparisons across the Nordic countries. Since some the comparative analysis is based on evaluation of companies' websites—see separate section below—we plan to relate these findings to what we hope to hear directly from the companies themselves when we later undertake a company survey, both in terms of what customer segments they are focused on and what products and services they are offering.
In the Nordic context, Finland is an interesting and unique case because the country has over the years had various initiatives and organizations dedicated to promote Finnish ELT companies with products and services that were thought to have export potential (to the Middle East, for example). Many of the companies involved in some of these initiatives—such as EduCluster Finland, for instance (see Box below)—in some cases making furniture and various other products that go into classrooms, were included in our initial lists that (partly) came from some of these initiatives and organizations. The result of our screening—as described in the country sections in the second of these two blog posts—was therefore a high number of companies dropped from our list (especially for Finland, but also from our Danish list).
_________________________________________________
Box A
Finnish ELT-Focused Initiatives and Organizations
Active Learning Alliance (ALA). ALA has the following members, according to their website: Beiz, e-Oppi, Edutukku, iDiD, ISKU, Qroom, Samsung, Samsung Service, Seppo, SkillzzUp, ThingLink, and Treston. According to ThingLink joins Active Learning Alliance to develop future learning environment "Active Learning Alliance in 2016 was planning to open and operate a Learning Lab in seven cities in Finland: Espoo, Lahti, Tampere, Turku, Jyväskylä, Kuopio and Oulu. Located at the facilities of Isku Interiors, Learning Labs also work as meeting, conference and co-working spaces for the member organisations and their clients."
EduCluster Finland. According to its website, the organization, had 74 members in 2013, including universities, vocational schools, foundations and associations. Companies were also involved, particularly from educational and ICT fields. An initiative called Future Learning Finland (FLF)—which operated from 2011-2014—sought to export homegrown educational expertise and practices. Future Learning Finland was coordinated by Finpro, a trade and investment development organization, and supported by the Ministry of Education and Culture, the Ministry of Employment and Economy and the Ministry for Foreign Affairs. According to Eeva Nuutinen, project director at Finpro, "Future Learning Finland was born when a Finnish education export strategy was laid out in 2010." [Source: "Finnish education expertise goes global."
Learning Solutions Program. This Tekes funded program was one of the largest government programs in the Nordic region to stimulate the growth and export success of Finnish ELT-focused organizations. For more on this and some other Finnish edtech ecosystem organizations, please see my blog post on "Finland: The Nordic EdTech Trailblazer?"
Using Finland House at Rio Olympics to Promote Educational Exports. Another example of how Finland promotes its education-related exports (in more and different ways than its other Nordic neighbors) is illustrated in the following note:"Finland House is the first ever high-end Finnish hospitality house concept in the history of the Olympic Games. Finland House is situated in the central Rio and be open until 21 August, 2016. Finland House, showcasing education is the venue for exclusive business and sport-related events, ministerial and presidential visits, and the Finnish Olympic Team press conferences."
_____________________________
Websites and Communications
Websites are an integral part of any company's communications strategy as well as marketing and sales efforts, as existing and potential customers and clients, as well as potential investors and others interested in learning more about the company, typically head straight to the website as a first step in their education and search effort (often after Googling to find the company's website). But, very early-stage, self-funded companies that don't yet have any external funding, may well only use a Facebook or LinkedIn page in its early days, and then build a website as it comes closer to having an actual prototype of a product or service ready, or close to ready, for market.
Spending money on creating a high quality website is generally seen as a necessary "cost of doing business" that one cannot avoid (except for the very early days of a startup, as noted above), but the good news is that most websites can be designed, built and maintained at relatively reasonable cost these days. Companies that skimp on this expense and end up giving web visitors a "subpar experience" may therefore be doing itself a disservice and should recognize that they could suffer from "missed opportunities" to impress existing and potential customers as well as potential investors.
I know that there are many different opinions on what a website could and should look like, and what content should be included, and even what language should be used, for instance. In fact, the bottom line for a company's website is "whether it achieves its purpose, as set by the website's owner," as noted by Kristian Collin Berge, CEO/Founder of EdTech Foundry in Norway. Kristian is right when he also notes that "These purposes, or goals, can vary a lot depending on the type of product or business it is marketing and the audience it is targeting." It therefore follows that without knowing what a company is trying to achieve with its website, one cannot easily pass judgement on the website.
If you are a small edtech company in Finland focused ONLY on the Finnish market (and similarly in any of the other Nordic countries), you can therefore argue that having your website only in Finnish, is ok. And doing it this way will save you some money, compared to having to translate the website content into English, for instance. However, if you have ambitions to reach customers beyond Finland, you might want to reconsider the language of your website. And remember that almost all Finns who will visit your website ALSO are likely to speak English, and this way you would also avoid turning away everyone who visits but does not speak Finnish. Yes, visitors can use Google Translate, but I know (from extensive experience, after having gone through MANY websites using only Nordic languages, and using Google Translate to check on the content) that the translation engine very often cannot translate Flash content you may have used, and many of the headings and other materials on the website is also left un-translated, resulting in a very unsatisfactory visitor experience. So, my advice is that if you don't have a great, English language website, think carefully through the pros and cons of whether you should keep doing what you now have or improve the website. Perhaps you conclude that what you are doing is fine for now, and that changes can be made later, if and when you are ready for a more aggressive marketing effort beyond you national market. But make sure this is a conscious choice backed by a rational strategy.
In my view, here are some website characteristics that you might want to consider when you review your current website—keeping in mind the caution that Kristian Collin Berge pointed out, so we are not saying that your website necessarily needs to have these characteristics:
Clarity about what key education/learning problem(s) the company is addressing
Description of what (unique) solution the company is offering
What benefits are to the user and buyer of the company's products/services — and avoiding overloading the website visitor with too much detail—unless you feel this is important for the target customers/market you are targeting
Identifying target customers of the company's products/services–—including what market segment (See figure below) the company is targeting
Use cases that provide compelling examples of how users of company's education/learning products benefit from using the products/services
Identifying good reference clients, ideally with a varied sample of customers, in the key sectors the company serves, as this can give company additional credibility with potential customers and investors
Statistics that demonstrate company's market traction, and growth, will also add credibility
Brief and clear description of the company, perhaps including a brief timeline for how the company has evolved (a few company website did an excellent job in presenting a timeline of the company's evolution), and perhaps a bit about its future vision.
Presenting the company's leadership team, with titles, pictures and brief bios (and ideally contact info for key personnel) can also be very helpful to potential customers as well as potential investors
Review of websites of other companies can provide ideas of how you can improve yours. A modern look and feel that makes it very user friendly will make the user experience more enjoyable for your visitors, and why miss the (generally low cost) opportunity to impress your visitors?
Nordic EdTech Segmentation Issues
Ideally, we would like to have all Nordic edtech companies positioned in a segmentation system—showing market/user segments along one axis, and product/services types along the other axis—that would help us quickly and clearly see important commonalities and differences among the various players in the Nordic edtech landscape—perhaps color coded for companies from each country. Also, over time, this would help us understand the evolving market dynamics as players decide to develop new capabilities and perhaps serve new customer segments—and therefore move from one cell to another in the matrix in the figure below. The challenge with this and similar analytical frameworks is finding the right balance between simplicity (and clarity) and sufficient detail to make it useful and insightful.
As the figure below also illustrates how we could not only say that a company is actively providing, say, instructional tools to the K12 sector, but also know how important their operations (in this cell) are compared to the company's other offerings (perhaps measured by the revenues generated the activities of each cell as a percent of its total revenues).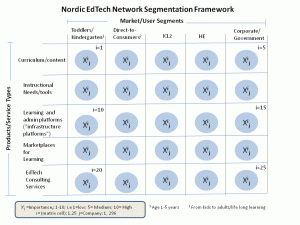 In the following section of this blog post, I will present some preliminary findings for the Nordic region overall, and then the second blog post will report what we currently see for each of the Nordic countries, in order to enable some early comparisons and pointing out some commonalities and differences that we see across the different countries.
The results of our preliminary segmentation analysis showed the following results (some companies obviously serving multiple market segments, but clearly K12 is the dominant market segment target :
| | | | | | |
| --- | --- | --- | --- | --- | --- |
| Segment | T/P | DTC | K12 | HE | C/G |
| Percent* | 8% | 33% | 61% | 27% | 35% |
*   Percent of the total number of companies reviewed: 296
Segment Definitions:
T/P:      Toddler and Preschool, i.e. 1-5 years old
DTC:    Direct-to-consumer (see discussion in text)
K12:     Kindergarten through 12th grade (i.e. elementary school)
HE:      Higher education (colleges, universities, and vocational schools)
C/G:     Corporate and Government
In terms of product and service categories offered by the 296 companies we evaluated, the results are as follows (companies, of course, often offer multiple products and services, and the percentages therefore don't add up to 100%):
Categories
Curriculum/Content

(& specific learning)*

Instructional

Needs/Tools

Learning and

Administrative

platforms

Marketplaces for learning

resources

Edtech

Consulting

Services

Percent*
50% (14%)
26%
71%
5%
34%
*   Specific Learning: Companies focusing on particular areas, such as shown in the bullets below.
Many of the Nordic edtech companies offering content or curriculum products and services sometime have a specific domain target, and these are some of the most common "specific learning" areas that are currently being served, and some examples of companies serving these areas:
Science, Technology, Engineering and Math: Kikora (Norway), Learner (Sweden), Matematikspel (Sweden), Mathleaks (Sweden), Eeducation Albert (Sweden), Edulab (Denmark), Labster (Denmark), and WeWantToKnow (Norway)
Languages: Lingio (Sweden), Sprakkraft (Sweden), Danskesimulatoren (Denmark), Mingoville (Denmark), Engram (Denmark), and Norsksidene (Norway)
Coding: Radiant Games (Iceland), and Skeme (Iceland).
Music: Mussikids (Iceland), Aqordo (Sweden), Soundtrap (Sweden), and Instrument Champ (Norway)
Writing/Reading: Laerum og Leikum (Iceland), Kids,We are Faces (Sweden), Engram (Denmark), WriteReader (Denmark), and Troll I Ord (Norway)
We should also note that many Nordic edtech companies claim to be doing "games focused on ELT" and in some ways it makes sense this would be the case, because of the following characteristics of the Nordic countries:
Many gaming studios, especially in Sweden, Finland and Iceland who have had significant international success in designing online games, including game-based apps (and a recent article claimed that just Swedish gaming companies are today valued at SEK 60 Billion).
Widespread use throughout the Nordics of mobile devices/platforms (increasingly used in games) as well as many early-adopter game tech users in the Nordics
High access to high speed networks, including wireless that enable a better gaming experience
Tech-savvy population and high standard of living making the Nordic region a good test-bed for new tools, technologies and apps
Now, the growing interest in Virtual and Augmented Reality is beckoning many gaming studios, some of which—like the new Swedish VR studio ScioVR—see opportunities in education and learning. Others, like Lightneer, formed by former Rovio veterans, including Peter Westerbacka, are seeing opportunities in applying Nordic gaming design experience into education and learning games. But in the case of many of Nordic game studios, quite a few, or even most of those I looked at on our lists, claim some interest in education and learning, but in most of these cases we find relatively little evidence (at least on their website) that shows an ELT focus in their work. Still, among the 296 companies we evaluated, we found a total of 59, or 20%, apparently active in ELT games. Finland led the way with 25, followed by Norway and Sweden with 12 companies each, and 9 in Denmark and 2 in Iceland. (Later in the project, we hope to examine more closely the gaming companies focused on ELT, and share our findings on our project blog).