By Eilif Trondsen, Ph.D., Project Leader, Nordic EdTech Network project, Silicon Vikings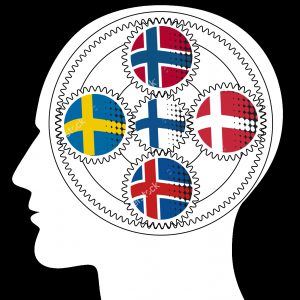 Nordic EdTech Landscape
Before I present the country-based results of our analysis, it is important to again stress that these numbers and conclusions are based on subjective assessment of various pieces of information collected so far in our project, including analyzing the websites of the companies. And, as noted earlier—even though many of the websites were excellent—many lacked explicit and clear indication of which market segments companies were focusing on and which specific products and services they were offering to the targeted market segments, especially in terms of the category definitions (T/P, DTC, K12, etc) we use in our project. So, we often had to deduce or infer based on what was said and presented on the websites, or in other information that has been available to us.
The next step in our work is to undertake a survey of Nordic edtech companies on our lists, where we give companies a chance to give us their own perspective of what segments they serve (and, hopefully, the relative importance of the various segments they serve), as well as which of our products and services categories they offer. Once we have this data it will be interesting to compare the two sets of data—our interpretation based on limited data, and the companies' own view of their market presence/footprint.
Below, the findings for each country are presented but here are a few of the similarities and differences we have found so far among the countries:
Market Segment Focus:

With the exception of Iceland, which constitutes a very small percent of the total number of companies—13 out of 296—the relative focus of edtech companies in the other countries is quite similar, but with Swedish companies having the highest percentage (75%) of the country's edtech companies focusing on the K12 segment.
Sweden also leads (with 35%), in front of Norway (28%). in its focus on HE.
Finland has the greatest focus on C/G (with 42%) of all the countries.

Product and Service Focus

Iceland, Finland and Sweden rank 1rst, 2nd and 3rd in terms of relative percentage of edtech companies in their country focusing on content and curriculum, and Iceland and Denmark are number 1 and 2 in relative percentage of companies in their country that offer ELT administrative platforms.
Very few companies in any of the countries offer market places for learning resources.
Generally a low percentage of companies in each country offers edtech consulting services, with the exception of Finland (with 48%), followed by Denmark (34%) and Norway (31%). But we realize that many companies may offer such services, perhaps more "bundled" with the products or other services they offer, without specifically and explicitly stating that they offer consulting or advisory services.
Sweden and Finland are number 1 and 2 (with 33% and 30% of companies) offering products meeting Instruction Needs and Tools for teachers or students.