Students learn at their own pace. Teachers keeps track. The real deal. In real time.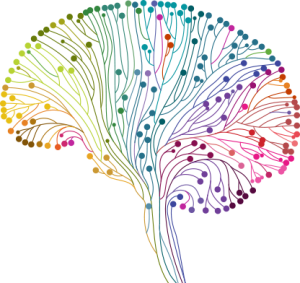 Guest Post by Mihaela Tabacaru–Country Team Member, Nordic EdTech Network, and Knowledge Curator, newSchool. The article was also published in Sonews.no
This summer I will celebrate 20 years since graduating high school. It will be more than a class reunion, many of my former classmates are lifelong friends.
I graduated from the Liceul Teoretic William Shakespeare, one of the most progressive bilingual high schools in my hometown Timisoara in Romania at that time, and really enjoyed going to school. I had English teachers from the UK and USA, learned slang by watching Pulp Fiction and had the best University teachers for physics.
But I didn´t always keep up. Despite good teachers, math and physics were difficult to understand. The classes were going too fast, tuned to the pace of the 2–3 best students in the class. We were a progressive high school — so we all had to follow the progressive students.
And now for the lifelong friends part. Finishing ahead at tests came with a price — after getting their work done, the fastest students assisted everyone else. They solved the exercises for us. They were always busy handing down notes with the worked-out solutions. I was lucky enough to sit next to Claudia, a math wizard, who contributed to my survival through differential equations and advanced geometry. Today I would call that peer learning — except that it was not allowed then.
20 years later, most high schools are still there: today`s classroom is equally paced, collective, most often textbook and teacher centered. Collaboration is not allowed, or not sufficiently put into system. There is always someone who is not fully "there" in class, someone who is busy watching the birds, or checking her Instagram. Someone who needs more time, who didn`t get it last time. Someone who works too fast. Someone who will not be finished by the time everybody else is, or who will have finished long before. This someone is approximately 30% of high school students who drop out every year.
Better education — to everyone
We are all different and learn in different ways. Hitting the sweet spot for learning in a class environment has always been tricky.
How can we help students learn at their own pace without being left to their own devices? How can we mediate peer learning and draw on the teacher`s experience and skills? How do we teach planning and collaboration skills that are so much needed for life long learners? What role does technology play? And, most important of all, how do we get there within the frame of today`s educational system?
It takes more than progressive schools, innovators and early adopters to change an entire system. Our vision is better education — for everyone. Because education is the key to solving our global challenges. Because we need to learn more and faster with less teaching.
We at NewSchool believe we should learn from digital transformation in other sectors and look at students as resources for each other. Capitalize on those who can help others, without feeling that those being helped are cheating. Our aim is to build tools that solve real problems in schools today. Tools that serve as a bridge into the future by making the transformation easier for teachers and students.
Personalized learning – together
Our first product is called LeanLearn and its purpose is to facilitate and promote the interaction between educator and students, allowing both students and teachers to experience control over their learning process, while having a blast using it.
Teacher control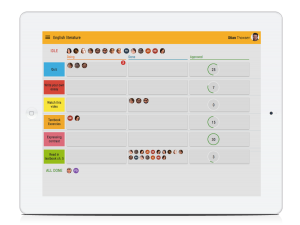 Teacher dashboard — simple overview
LeanLearn gives the teacher an overview of the students' progress and facilitates direct individual feedback opportunities to mentor and guide them through the tasks.
Learning at own pace
LeanLearn helps students learn at their own pace, gaining confidence in their progress while still being individually supervised by the teacher. As students start working on a task in the order they chose, they drag and drop the tasks from "to do" into "doing", and then finally "done" when they are finished.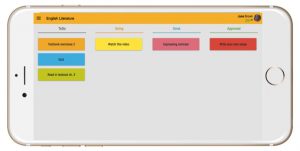 Students advance at their own pace in an intuitive drag-drop interface
Increased collaboration
LeanLearn encourages and enhances classroom collaboration and peer tutoring. Our tool helps teachers position themselves as mentors who facilitate knowledge sharing between the students. Students can ask questions and get answers from peers or teachers.
Realizing our dream
….will imply:
Attracting competent teachers who don't feel threatened by more peer-based learning processes and who see students as capable of taking charge of their own learning, teachers who will help change the system from the inside
Designing amazing, simple and attractive (IT) tools that support personalized, collaborative and informal learning
We are currently testing a pilot version of LeanLearn in schools across Europe. Ready to help students learn at their individual pace without being left to their own devices? Want to join the Leanification of schools? Try out our beta version at getleanlearn.com or get in touch with mihaela@newschool.me (+47 41855830)