Guest Post by Oulu EduLAB team members
The projects and teams you will meet below are completing their work as part of the Oulu EduLAB program in Finland [For more details about this very interesting program—and seemingly unique in the Nordic region—see this blog post by Blair Stevenson, Lecturer at EduLAB] . Oulu EduLAB is a full-time, 5-month EdTech incubator program established by the Oulu University of Applied Sciences (OAMK) in Finland.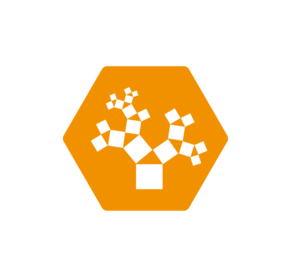 Gamelang at Oulu EduLAB
by Alex Brina
We are Gamelang and we are currently working on building Langeo, a new, innovative English learning game that aims to link education and entertainment in a unique way. The problem we are trying to solve originally came from the company, Oxford University Press (OUP).
Langeo will be a 2D game dedicated to mobile devices that will aim to both entertain the players, while teaching them English vocabulary. Langeo features an alien (Langy) who crashes to Earth with his UFO and finds himself stranded on a foreign planet where nobody speaks his language; learning the language of the natives will lead him towards a path of growth and evolution, accordingly to the experience gained by the player. Langeo will have an offline single-player mode, and a challenging online multyplayer one, with geo-location features that will allow the players to create and "pin" tasks to challenge other players.
We are now reaching the end of our first cycle of user testing as part of the prototyping phase of EduLAB which will connect us with an audience of potential users that have a low proficiency in English, or that can't speak it at all. Until now, we had to face many challenges along the way, such as technical incompatibilities and changes in the project direction. Market-wise, we acknowledge that the competitors are many (numbers suggest that around 80,000 apps on the Apple App Store fall in the category of "Education"), and that it will be challenging to launch our product on the market. On the bright side, we know that our passion for what we are doing, our commitment and, last but not least, the support provided by the team of coaches in Oulu EduLAB will provide the possibility to create something great together.
Our team is currently composed by six members from six different countries:
Alex: 27, Italian, with a Bachelor's in Communication and a background in Linguistics, he is a Master's student in Oulu in the LET – Learning, Education and Technology programme; in charge of the educational aspects of the game, business and responsible of the communication with OUP.
Danna: 22, Russian, exchange student in Oulu, she is currently studying Computer Graphic and Web Design, and has experience as a designer; visual designer, and in prototyping.
Janne: 23, Finnish, currently student at OAMK in the Faculty of Computer Sciences, he has great experience with HTML and passion for graphic design; front-end coder.
Joris: 22, Dutch, exchange student in Oulu in his third year of Bachelor's Degree in Communication, he is a creative and very talented artwork drawer; visual and graphic designer for the app.
May: 23, Thai, with a Bachelor's Degree in Education and Psychology, she is currently a Master's student in Oulu in the LET – Learning, Education and Technology programme, and has already plenty of experience as a teacher; project manager and game designer.
Mohammed: 27, Iraqi; currently enrolled at the Oulu Open University, he is candidate for a study place as Master's student at the Faculty of Information Technology and Electrical Engineering at the University of Oulu; back-end coder.
In addition to the current team members, we want to include in our list Bushra, Muhammed and Niki, our former teammates that, each one of them for different reasons, had to leave the team before we could reach the end of our Demo Path, but whose ideas and contribution have been crucial during the development of our concept.
Little PenPals from Oulu EduLAB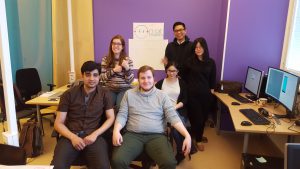 by Maria Victoria Parody Merino
We are a group of university students with different backgrounds coming from different universities who have been taking part in Oulu EduLAB program. Starting in January 2016, we ended up as a group and are currently prototyping Little PenPals. Little PenPals consists of an application that connects kids from different countries under six years old and lets them share their own world between each other through non-verbal electronic postcards.
During the postcard creation, kids are able to drag and drop localized stickers, like food from their country, or other stickers related to their culture. They will be able to draw, take a picture or record five seconds of audio. After that, the child will choose a country where the postcard should be sent and a specific contact (another child from that selected country).
With this application, children learn about multiculturalism through those localized stickers, pictures, audio and drawings. Also, they are expected to learn the values of tolerance, respect, empathy and diversity in this intercultural activity. It will also enhance the relationship between parents and their children because there will be a parental control for this app anytime a child is sending or receiving content, so parents are expected to build a dialogue with their children while using the app. By doing this, parents will control what they want their kids to see.
The application is will be fun because of the localized stickers they can use to decorate their postcards and other functions that allow them to be creative with their penpals. It is being built as intuitive and very simple to use. Our next step is to continue building the prototype of Little PenPals and continue our user testing in different kindergartens around the world.
Our team is composed of one coder, one software developer, one graphic designer, one business expert, and two educators, all from five different countries: Finland, Pakistan, Spain, Vietnam and China. If you are interested in our idea or you want to see and learn more about us, give any advice or comments, you can write us at: littlepenpal@gmail.com or find us on Facebook: Little PenPals.
Fostering learning…M.O.L.E. at Oulu EduLAB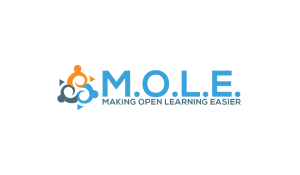 By Maida Ali
Hello World from M.O.L.E.!
The problem we are trying to solve originates from 21st century schools where learning has become both an individual and a group process. This type of learning revolves around the concept of self-regulated learning in open spaces. Students not only have to regulate their own learning, but also to help other students regulate their learning as well. And yet, schools today face problems providing feedback and assessment for students' learning in real time.
M.O.L.E. (Making Open Learning Easier) is a self-assessment and pedagogical application used by students and teachers in comprehensive schools to keep an eye on learning progress and facilitate the learning process. Teachers can give and receive constructive feedback, view real time progress from students' work, and offer a "call for help". Students, on the other hand, can send a progress status, assess themselves, and engage in co-regulation during collaborative work.
I am Maida Ali, project manager for the M.O.L.E. team. I received two gold medals in Education and English Literature in my Baccalaureate in Pakistan and have volunteered for several national and international organizations. I am an educator and now I am here in Oulu, Finland completing my Masters' Degree in Learning Education and Technology.
Let me introduce the rest of our team.
Nahomi Gröhn is the technical expert for the team. Originally from Japan, she has 7 years of experience in Software Development. She has been living in Finland for 10 years and is a mother of two children.
Clément Dumas is from France is a LET Master student at the University of Oulu. He graduated in Mechanical Engineering in 2013, and worked for a year and a half on the Final Assembly Line of the A380 for an Airbus subcontractor company. As a science enthusiast with creative hobbies, he rarely runs out of ideas and sees education as the single most important factor in the development of the world.
Hui Yin (Sophie) brings in her technical knowledge to complete the team. She has two years' experience in Marketing and Teaching in China. She is on the way of becoming an expert in the field of Educational Science and Technology.
We are looking forward to developing the application prototype. There are pedagogical experts from Finland who are already guiding us to tailor the application according to the needs of the new Finnish National Core Curriculum, which is going to be a challenge in itself. Other than that, our contacts believe that our application is promising and we are already testing our prototype in schools here in Finland.
Oulu EduLAB profiles Team Mörkö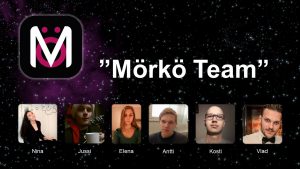 By Elena Cirlan
Team Members
The team includes six team members from Romania, Moldova and Finland: Liber Vlad, Nina Jackson, Jussi Finilä, Elena Cirlan, Kosti Koivu, Antti Piippo.
The Problem
Music theory can be difficult for children to learn and can easily lead to boredom and loss of interest. According to our research with music schools, instructional strategies can be often uninspiring, which in turn can lead to a monotonous learning experience.
The Solution
Our solution is to make a music theory game called "Mörkö" that will unite an educational experience about music theory and gamified aspects. This game is being made to be pedagogically robust so that it will be suitable as a tool for teachers to make their music theory lectures more interactive and fun.
Overall Future Perspective and Challenges:
With respect to the business model, the game will have a limited and unlimited version. The limited version will be free, however the unlimited version will have new levels and different features for a minimal price. Our customers are going to be: parents, teachers, kindergartens, music clubs, and music schools. The game users are expected to be: 6 – 8 year old children.
Our aim, for the near future, is to build a demo and user test it in many contexts. Then, we hope to continue developing the first full version of the game and ultimately find investors to support us to become a viable start-up.