Guest Post by Mihaela Tabacaru and Anja Elise Vålbekk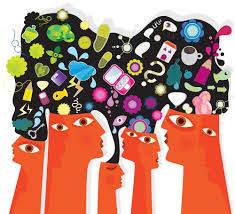 Edtech is all about putting humans at the centre when designing tools for better learning. Oslo Edtech Cluster teamed up with Oslo Medtech, World Education Foundation, Openshop, and Studio Saasen to offer an intro to design thinking on Tuesday 5 April, followed by a workshop on April 7 and 8th about using Design thinking for educators.
How is design thinking relevant for educators?
In the words of IDEO, "Design Thinking is about believing educators can make a difference, and having an intentional process in order to get to new, relevant solutions that create positive impact".
Design Thinking begins from deep empathy and understanding of needs and motivations of people—in this case, the students, teachers, parents, staff and administrators who make up the educators` everyday world. " It benefits greatly from the views of multiple perspectives, and others' creativity and helps bolster one`s own creativity. The method gives permission to fail and to learn from mistakes, because one comes up with new ideas, get feedback on them, and then iterate. Given the range of needs students have, an educator`s work will never be finished or "solved." It is always in progress. Yet there is an underlying expectation that educators must strive for perfection, that they may not make mistakes, and that they should always be flawless role models. This kind of expectation makes it hard to take risks. It limits the possibilities to create more radical change. But educators need to experiment, too, and Design Thinking is all about learning by doing." (Design Thinking for Educators)
The five steps in Design Thinking are
EMPATHIZING – understanding your "client" through research and interviews
REFRAMING/ INTERPRETATION – going to the heart of the matter, using tools for defining key questions (a brilliant answer to a meaningless question serves no purpose)
IDEATION – unleashing ideas, strategies for diverse ideation
PROTOTYPING – trying out on a less than perfect first draft of the idea
EXPERIMENTATION – knowing beats believing – getting feedback on the idea and translating it into action points
A few relevant challenges for innovation in education
Framing the right "How might we" question to address your challenge is essential. The question should be broad enough to allow for unexpected possibilities but narrow enough to let you focus.
Here are a few other examples (taken from IDEOs book for educators).
Curriculum
How might we engage students more deeply in reading?
How might we bring the "real" Chinese community to my Chinese classes, and enable my students to make more authentic connections to the Chinese World?
How might we create a curriculum that teaches students about the brain and about who they are as learners?
Space
How might we design our classroom space to be student-centered?
How might we create a space for teacher collaboration?
How might we redesign the library to enable flexibility between loud collaborative and quiet contemplative uses?
Processes and tools
How might we build school/family partnerships?
How might we adapt the school schedule to the learning rhythms of our students?
How might we create a way to systematically review, discuss, and support students at lower grade levels?
Systems
How might we develop tools that help teachers collaborate across our district's schools?
How might we support a more well-rested campus?
How might we design our campus to serve our students and the community?
Design Thinking for education workshop
The theme of the workshop was designing tools for the 21st Century Learner and the 21st Century Classroom, with a focus on the process of getting to a prototype using Design Thinking as a method. The participants were EdTech members, intrapreneurs, educators and students–a good mix for a workshop.
After an introduction to Design Thinking given by Marques D Anderson from World Education Foundation and Marie Saasen from Studio Saasen, Mihaela Tabacaru from newSchool guided the participants through the process by which their company had come to the forming of their product, leanLearner, a newSchool tool that helps students and teachers track and visualize the learning process, capitalize on instant feedback and learn from each other. Anastacia Malafey from Interwell Technology gave us some practical examples from Innova Schools (in Peru), IDEO and Learner Mosaic. After having been given some inspirational stories and valuable examples, getting started at the empathizing phase of the design thinking process, the participants were divided into two groups, each group focusing on one of the two challenge targets: the learner and the classroom.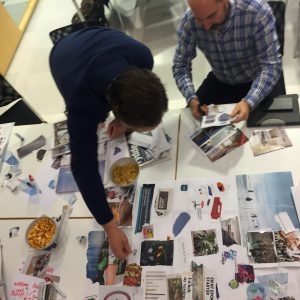 The ideation phase started with making vision collages: the participants cut out images from magazines and newspapers and made a collective collage of their individual vision for the classroom and learner of the 21st century. At the end, the collages were pinned up on the wall, as an inspiration for the second day`s continuation of this phase of the process. In order to ideate what the 21st learner and classroom looks like and what they need, we got a crash-course in making personas given by Marie Saasen. Designers use personas as a method to get to know and to understand an audience or a target group and they represent the users of the product that are being developed. They are like fictive "portraits" that designers use to aim their product at. This persona is in the centre of the whole group that is being targeted. We ended up with two different personas that were given the two groups, as a summary of the interpretation phase.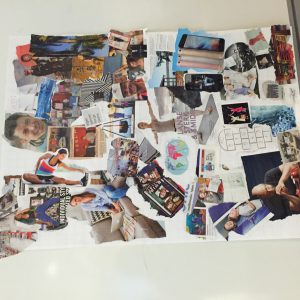 Then, back to the groups, where each participant presented thoughts and visions that were gathered on the collage. With broad and varied backgrounds, there were many different considerations and reflections, and thoughtful insights.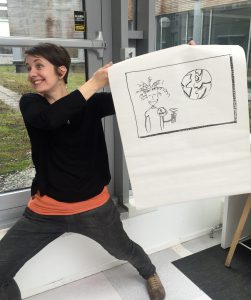 After presenting ideas, the next level was prototyping: having produced a whole set of ideas, we narrowed them down and worked the ideas one by one. Each group made a storyboard in order to explain the idea for the 21st century education, which Anastasia summarized on a collaborative drawing on our fellow visions for the 21st century learner and classroom.
Important cues from the design thinking process on what the 21st century will look like for the future education is: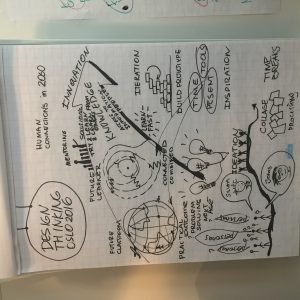 Global orientation
Lifelong learning
Bring the industry into the schools, kids need to solve problems from the real world
Collaboration
Metacognition
Creativity
Mentoring from outside school