Guest Post by Pekka Ollikainen, Country Team Member of Nordic EdTech Network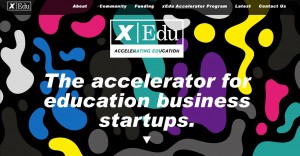 Finland has one of the best education ecosystem, and one of the best start-up ecosystems in the world. xEdu is an EdTech-focused accelerator in Finland—the first of its kind in the Nordic region [but at least 14 such EdTech accelerators exist in the US, 7 of which are in Silicon Valley, as noted in this blog post]. The xEdu accelerator is located next to Helsinki University's Department of Teacher Education. Start-ups can take advantage of the Finnish knowledge in Education and ICT—in part by taking advantage of the partners that xEDU have assembled as part of its community and network—and help EdTech startups reach their full potential.

The start-ups in the field of Education face many of same challenges as other start-ups. Still they need to consider more of pedagogy and recent results in digital Education research (this issues—how to leverage academic research and expertise around pedagogy and efficacy—is a topic which will likely be revisited many times during the Nordic EdTech Network project). Based on the mentoring and coaching, participating startups will develop scalable, pedagogically-verified and commercially-viable learning solutions.
The xEdu accelerator team has broad knowledge in the field of Education for finding the best methods and potential business opportunities for individual start-ups, and accelerating the company development into full speed. The development includes creation of a holistic view on how to work within the Finnish or Nordic startup ecosystem, including the government authorities, educational institutes, and large companies that are all part of the education sector.
xEdu hosts bi-annual accelerator cohorts for best future Education solutions and products on top level. The first xEdu accelerator program has been running now for two month with 10 international startups, out of the 100+ applied for. The second round of applications is open until the beginning of June 2016. The candidates will prepare for entering the US, Middle-East and Asian Education markets. xEdu works as an intermediator between the highest potential startups in the education business, investors and target customers.
xEDU will also be hosting or collaborating with others in putting on EdTech and related events [for instance: EdTechFinland 2016—Accelerating Learning Innovation]—similar to such events that proliferate in Silicon Valley—which not only will allow for knowledge exchange and discussion of technology and business issues around EdTech startups, but also allow for important networking. Such events are also now taking place more frequently at the Oslo EdTechy Cluster at the Startup Lab at the University of Oslo, and various events and meetings are also taking place in Sweden. The team at Nordic EdTech Network is very happy to see such networking and community-building events taking place across the Nordic region.