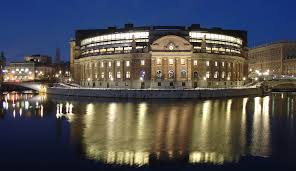 At the request of Jannie Jeppesen of EdTech Sweden, who has been involved in organizing the Swedish Parliamentary Breakfast Seminar on EdTech that will take place on May 11—see more details here: http://bit.ly/219flww—I was asked to be interviewed (by Ulf Skarin, formerly journalist with Veckans Affärer, and now independent) since I could not fly all the way from Silicon Valley to Stockholm for only a breakfast seminar. Since the interview had to be limited to 3-4 minutes, I obviously had to provide VERY brief answers to the questions Ulf posed to me. And afterwards I thought I could just as well write a blog post and provide a bit more information on the questions Ulf asked me, in case it might be of interest to any of you, including, of course, those who attend the Parliamentary breakfast seminar and hear my very brief interview.
Q1: What is the buzz around and interest in EdTech (in the US and internationally), including from investors
A: First of all, it is not easy to quantify the "edtech buzz" but it is clear that it has risen considerably, especially in the US, but also in other countries, over the last five years or so, especially. Here are a few ways to think about it and also as a way to be more specific about how to see the buzz and growing interest:
Growing media and Internet coverage of edtech. In the US, EdSurge (https://www.edsurge.com/ )—in my view, one of the best media organizations focused on edtech issues and developments (especially K12—and, at least so far, mostly in the US)—was launched in 2011. And since then the quantity and quality of information and data, including a growing amount of research-based reporting (i.e. not just "reportage" of events) has been growing steadily. If you are not getting the EdSurge newsletter (which is free) you are clearly missing out on a very important edtech resource, in my humble opinion. And many other organizations now also cover edtech regularly, including the following two: (1) GSVLabs (a large accelerator and venture operation in Silicon Valley, which also has an edtech accelerator, EdTech Innovation Lab) [http://gsvlabs.com/innovation-labs/edtech/]; and (2) CBInsights.com (a venture capital database and angel investment database that provides daily real-time information about venture capital and angel funding), which sends out frequent analyses, often focused on edtech, as part of the free newsletter that Anand Sanwal publishes. My advice: Sign up and check out, even if it adds to your queue in your e-mail inbox.
Number of edtech accelerators. We now have at least 14 such accelerators in the US, half of which are in Silicon Valley. I haven't done a comparative analysis of them, or checking on their relative size, but I believe the EdTech Innovation Lab of GSVLabs in Redwood City—near the center of Silicon Valley—is one of the largest. Not long ago, EdSurge created a nifty infographic that you can find here [https://www.edsurge.com/news/2015-10-21-your-guide-to-a-nation-of-edtech-accelerators] that gives summary descriptions, and locations, of these US accelerators. As with incubators and accelerators in general, many of them have excellent marketing and promotion materials, but check their claims carefully, and make sure you chose carefully, before deciding on which one might be right for you. And if you want to hear what a little bit about the experience of one of our Nordic "edupreneurs" and what his experience was in the Intel edtech accelerator, check out the podcast interview I did with Babar Baig, CEO of WriteReader from Denmark [http://net.futurelearninglab.org/webinars/]. Finally, on edtech accelerators: I hope/assume you know that we now have our first Nordic edtech accelerator: xEDU [http://xedu.co/] in Helsinki. I had an interesting chat with Antti Korhonen, CEO of xEDU last week in Silicon Valley and found out that he had just signed a collaboration agreement with EdTech Innovation Lab, so we hope to hear more about this, either at the WLS 2016 conference in Kristiansand soon, and/or in a future podcast or blog post.
Investment in US edtech. This deserves its own blog post—or a number of them, and if I find time, I may follow up on this with some more perspectives on this topic—but here are a few "tidbits" that hopefully gives you a sense of what has happened over the last decade or so, and why this also illustrates the growing buzz around edtech that we have seen. First of all, US data shows that "investors have plowed over $2 Billion since 2010 into startups addressing the US K12 edtech market," according to a recent report published by EdSurge ("How Money Shapes Tools and Schools" (part of the EdSurge series on "The State of Edtech 2016")– https://www.edsurge.com/research/special-reports/state-of-edtech-2016/funding). Some—especially those comparing this funding by what is going into other "hot" sectors, like FinTech, for instance, should remember this quote from the same report: "…if this number seems low it's because headlines often lump together many "education" efforts, including corporate and adult learning, higher education and international investments—add those together, and it's easy to surpass $2 billion in 2015 alone." This is a point I made with Jannie, some weeks back when we discussed the definition of edtech. My concern about how many view edtech too narrowly by focusing primarily, or only, on K12, because major opportunities will be found (by "edtech companies") in consumer markets, higher education as well as in corporate and government sectors—all of which have to improve the experience and efficacy of learning.
Investment in global edtech. I have not yet found good data for edtech investments outside of the US, and data by EdSurge and others clearly show that "most of the action" is still in the US, illustrated by the following facts (from a presentation by Allison Baum of Fresco Capital, a US-Asian VC firm): (1) 75% of capital invested into edtech in 2014 was in the US [although I am curious about this number if we don't really know how much was invested in various countries around the world!]; (2) 6 of the most active early stage investors are US based; (3) 9 of the 10 largest financings in 2014 were in the US. However, Allison points to the very large number of students and the large size of the educational sector in China, or Asia more generally. In fact, Allison expects Asia to be the largest edtech regional market by 2018—so get ready! A few more facts about Asia and China in particular: According to a table produced by CBInsights in January 2016 showed the following: (1) "Ed tech funding continued to soar to new heights in 2015 as global ed tech companies took in more than $2.98B across 442 deals last year, according to CB Insights data;" (2) "China's ed tech boom: Funding to China-based ed tech companies topped $1B in 2015. Funding to Chinese companies made up 37% of 2015′s global ed tech funding total, compared to 17% in 2014;" and (3) in a table of 7 $100 million + edtech rounds in 2015, 4 of the 7 were China-based companies.
Q2: Which are some of the most important and talked about trends in edtech?
A: Across all of the different edtech sectors, I think that adaptive or customized learning is seen by many as the holy grail of learning, getting us beyond "one size fits all" kind of solutions. I have written more on that topic here [http://net.futurelearninglab.org/2016/01/12/some-perspectives-on-adaptivepersonalized-learning-and-implications-for-nordic-edtech-startups/], and I suspect we will continue to see more edtech companies coming out with new and innovative solutions that take advantage of artificial intelligence (AI)-based technologies (including machine learning), big data, and cloud computing. However, I think it will take some time before we get a good sense of what works and what does not work so well in this area. Gyldendal in Norway has been working with Knewton on this front over the last year or so, and hopefully we will soon start hearing how well their new products for K12 schools in Norway are working.
If you look at the (product) Index of Edsurge [https://www.edsurge.com/product-reviews/], you will see that it has the following product distribution across its categories (number of products in parenthesis): Curriculum products (490), Teacher Needs (399), School Operations (336), Post Secondary (270), and Everything Else (505). Based on this evidence, there obviously is lots of interest and activity around curriculum products, and especially in mathematics, an area where I know that a number of Nordic edtech companies are also active. And I also know, from information I have seen elsewhere, that "curriculum marketplaces"—where teachers can buy and sell teaching materials—have also received substantial venture funding.
In Higher Education and in Corporate Learning, MOOCs and MOOC-like products continue to see quite a bit of interest and activity, and companies like Coursera, EdX, Future Learn, Udacity, NovoEd and others continue to build courses, and some of them are now emphasizing areas of "Specializations." A friend recently sent me a link to the number of Specializations that Coursera now has around Entrepreneurship, and I was amazed at the diversity of courses and "bundles of courses" that anyone can sign up for and obtain certificates in various forms of entrepreneurship. [https://www.coursera.org/browse/business/entrepreneurship?languages=en]. Both Coursera's Specializations as well as Udacity's Nano Degree programs can cater to corporate learning needs, and I think we will continue to see students and enterprise employees taking advantage of these inexpensive offerings to acquire marketable competencies.
Finally, I also see continued and growing interest and activity around various forms of "learning platforms." A recent announcement by two of my favorite edtech bloggers—Martin Feldstein and Phil Hill of e-Literate—about their upcoming focused research reports on Learning Management Systems [http://mfeldstein.com/the-first-e-literate-subscription-product/] is indicative of new and interesting developments on this front. With the arrival of the Norwegian product Skooler (by Avantador), and a number of other Nordic players in this area, we are likely to see a more competitive LMS environments in the Nordics, and hopefully this will result in better and more innovative products, including more social features, for easy and user-friendly communication and collaboration (compared to what older LMS products typically offered).
Hope to see many of you at the World Learning Summit conference in the University of Agder during June 14-16—see http://wls.futurelearninglab.org/–so we will have an opportunity to discuss these blog issues (and other topics of interest to you) when we meet in Kristiansand.