Guest Post by Jannie Jeppesen, Head of EdTech Sweden
Sweden. The Unicorn Factory. Top three on the Global innovation index. One of the strongest Gaming Industries in the world.
Innovative, disruptive and scalable startups like Spotify, Klarna, Mojang and King have come out of Sweden the last years. The Start up scene is boiling and venture capitalists are investing more in Swedish Startups than in other Nordic countries.
The Global Edtech market is growing, both within K-12-Higher Ed and the booming market for Professional development solutions. International investors are turning more interest into edtech investments and Scandinavia is considered to have huge potential. So where is the Swedish Edtech scene?
The easy answer is: We don´t know.
Do we need a Spotify for Education?
The edtech scene is a fragmented community, completely mixed with the rest of the swedish start-up scene.  A start-up scene where you find clusters for fin-tech, game hubs, clean-tech etc.  Part of the problem is that we don´t really have any hotspots for edtech. The weak identity of Swedish edtech is also contributing to this. The definition edtech is not established in the VC, incubator/accelerator or start-up community. We have established e-learning companies or edtech companies, but no community because they don´t use the established term edtech. And above all, we have no unicorn example in the field. Unicorns or international successes drives investment and is inspiring business models or ideas. It fertilizes seed funding and drives ideas and innovation.
The interest in edtech for Swedish venture capitalists or business angels has been quite low, but it is now becoming a field of interest. They have identified the need for life long learning and that the speed of the digital transformation makes the skills gap a critical issue for all industries. The capacity of the edtech industry to become one important export industry is now apparent.
The potential in Swedish edtech
I see the potential Sweden has to develop and find innovative and ground-breaking solutions within the field of edtech. The edtech market needs "a second wave", a wave where the focus is on learning and developing skills (rather than administrating the education system). Something Sweden is good at. We have the advantage of a lot of interesting resources at hand.
The Gaming Industry can, with its brilliance in motivational dramaturgy fuel the edtech scene.
Swedish educators are really good at developing skills needed for the 21st Century. Student-centered methods is making skills like collaboration, communication and creativity one of the reasons of the "Swedish wonder economy" and our rankings on innovation indexes. Do not let the falling PISA-results fool you.
Sweden is a perfect launching market. The education system is digitalized, we are connected and considered to be a nation of early adopters. Sweden, and the Nordics, are small markets. Businesses here must think about the global market, from the beginning, and they do. This is part of the explanation of the Unicorn wonder.
What needs to be done?
We need to build an industry identity and community by highlighting the edtech sector and defining it. One first step is to map the Swedish edtech ecosystem, something never done. The edtech scene is a black hole but there is a lot going on out there. EdTech Sweden is mapping the scene in close collaboration with Silicon Vikings, in order to present an open source resource to connect VCs and start-ups. You can become part of the Swedish EdTech map by filling out the form here.
We also want to raise awareness on how edtech can support the digital transformation and bridge the education gap. There are great societal benefits to be made on a national and on a global level. And there is a good potential for building a large export market. Our conference EdTech Sweden: Innovating Learning is a way to adress the importance of life long learning and competences as key to a successful digital transformation for all companies, governments or organisations. We will also launch the Edtech Start-up Awards later this spring, a possibility for discovery and scalability for edtech start-ups and a meeting place for the edtech ecosystem.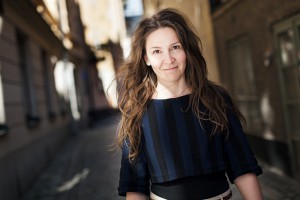 Jannie Jeppesen, Head of EdTech Sweden
Jannie works with Creative Strategies at Rektorsakademien Utveckling, founders of EdTech Sweden. RAU co-arrange SETT- Scandinavian Educational Technology Transformation, annual conferences in Stockholm, Malmoe and Oslo for K-12 and welcomes 20,000 visitors a year. Jannie has a background as an educator and a principal in K-9.