Guest Blog by Blair Stevenson, Lecturer and EduLAB Master, Oulu University of Applied Sciences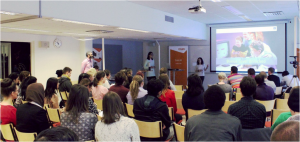 EduLAB is part of a rapidly expanding pre-incubator program at the Oulu University of Applied Sciences in Finland called Oamk LABs (oamk.fi/labs). Growing from its original LAB – Oulu Game LAB – which focuses on the creation of multidisciplinary teams to build prototypes, products and then start-ups targeting the global games industry, the Oulu University of Applied Sciences has expanded this model of training to establish EduLAB which specifically targets the global education technology industry. Like the other Oamk LABs, EduLAB is taught in English and is a full-time, 5 month educational program for university level students and professionals in re-training with backgrounds in education, graphic design, programming, business and even health.
The EduLAB curriculum consists of two 30 ECTS credit course packages: demo path and product path. The demo path represents the first five months and acts as a starting point for all participants to be placed into multidisciplinary teams which together build prototypes. Upon completion of the demo path, these teams then have the option to return for an additional LAB (product path) and turn their prototype into a full product and start-up. After these 10 months in the LAB program, new start-ups are then ready to join accelerator programs or begin growing on their own as a viable business. In this way, participants can complete their studies while establishing a start-up at the same time.
The current EduLAB cohort (45 people from 28 different countries) began on January 18 and continues until mid-June 2016. Education is viewed very broadly in EduLAB and therefore prototypes are developed to support learning at any level and any context (e.g. elementary school level to informal workplace learning for adults). The prototypes currently being developed range from educational games and apps for teachers to digital products that support health education and rehabilitation. EduLAB also represents an innovative collaboration between the Oulu University of Applied Sciences and the other university located in the same city: the University of Oulu. As a result, the current participants are educators and education students such as a large group from the University of Oulu Masters of Learning and Education Technology program as well as advanced Bachelor degree students from Oamk in the fields of software design, graphic design, business and marketing as well as health. EduLAB also has a large group of international exchange students as well as professionals that have come back for re-training (ex-professionals from Nokia and Microsoft for example).
EduLAB is structured using a LAB studio model first established at the Oulu University of Applied Sciences. The first month focuses on rapid concept design and learning the basics of working in the EdTech industry. The next stage is dedicated to prototype development and refining the skills of each individual in his or her chosen role in a team. Ultimately, each team aims to create a viable EdTech prototype, however the LAB is also competitive and only those concepts deemed to have the most potential are continued past a series of pitching events called Gates. Furthermore, most concepts attempt to solve problems that have been brought to the LAB as suggested by established companies and organizations in the industry.
Keep an eye out for upcoming EduLAB events such as the Gate 2 live streamed pitching event scheduled for March 1 and EduLAB's annual Education Innovation Hackathon (hacking digital education concepts) to be held on March 21-22. This year's hack will focus on the potential for Internet of Things (IoT) in schools using the Finnish IoT device, Thingsee (https://thingsee.com/) and will include participants from a delegation of OamkLAB Japanese partners. Additionally, anyone with an interest to join EduLAB as a participant should remember that the application period for the next round opens on April 1 with the next LAB starting August 29, 2016.
If you are interested to learn more about EduLAB, feel free to contact the EduLAB manager Blair Stevenson at blair.stevenson@oamk.fi or visit their website at www.oamk.fi/labs.